Learn English While Having Fun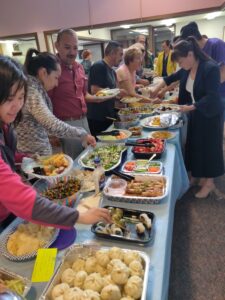 At English Learning Center, we:
welcome all adults who want to learn English
provide a friendly and welcoming environment
offer five levels of instruction from beginning to advanced
taught students from more than 50 different countries
create a social environment where students interact closely with teachers and with other students
arrange break times where students enjoy refreshments and have an opportunity to meet new students and talk to the teachers.
To celebrate the completion of each session, we organize a party where students can share food and drink. These parties often include singing, dancing and other entertainment activities
Hear from our current students:
"My name is KaBaw. I'm a mother of 3 children. I have been in Denver about 9 years, and I work at a daycare center.
I lived in Burma until I was a teenager, and moved to Thai-Burma to live there for a while. I came to the USA through the UN Refugee Agency.
I was so excited to resettle in a new country to start my new life. The first thing that came to me, though, was to find a job to support my family. Second, I needed to learn English if I had the chance. I took some ESL classes, but not enough. I did get a good job, finally.
Personally, I like spring the most of the four seasons. I love to see the different colors and kinds of flowers. They are so beautiful.
I like listening to varied music, and dancing for fun.
In the past nine years, I spent a lot of time working, and taking care of my children. I was too busy to think of my own future. But now, my children are getting older and I can have some time for myself. So I started to think about how to improve my English first, and then achieve some certification to earn more money. So I started to Google about ESL classes, and finally I found the English Learning Center. I read the information several times to make sure of everything.
I chose the ELC because the classes are flexible and suitable, there are enough experienced teachers, and it's a fun place to improve my English. The ELC is good for all people who are so busy, especially with children. I love my class.
Hooray!"
– KaBaw, current level 5 student